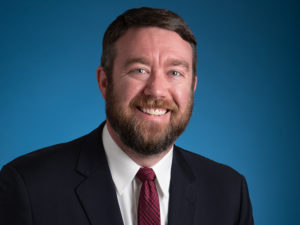 Eric Trout
Associate
Managing all aspects of water law and related legal areas, Eric Trout brings a diversified legal background to the firm. With solid experience working with both the 9th Judicial District Attorney's Office and the Denver City Attorney's Office in the Prosecution and Code Enforcement Section, before joining the firm, he is a consummate litigator who understands what it takes to win in water court and why it's so important to not let water rights run dry. Highly knowledgeable in current water laws, as well as the complexities of zoning compliance, wastewater regulations, and ordinance drafting, Eric can develop an effective, comprehensive plan for your water resource goals. Accordingly, he is well-versed in personalizing each unique water case.
Clients in need of both relentless, thoroughgoing research and/or thoughtful, persuasively innovative litigation counsel on specific legal issues will find Eric to be an influential ally capable of finding elegant, logical solutions to very complex situations.
No stranger to persevering in the face of challenging circumstances, Eric spent 18 months working in cargo operations and transportation support at the McMurdo Station research outpost in Antarctica.