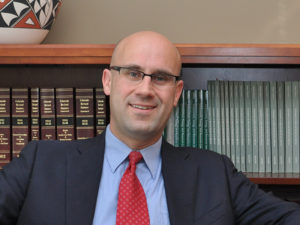 David S. Hayes
Partner
Prior to HPK, David Hayes practiced at Petros & White, LLC for almost 20 years. His areas of practice include water law, public lands, land use and real property law.  David's clients include municipal and county governments, agricultural and ranching interests, ski areas, country clubs, private landowners, land developers and mining companies.
David assists clients in a broad range of water matters including:  strategic planning, adjudications of water rights and related diligence, changes of water rights, augmentation and exchange plans, opposition to potentially injurious water rights, water rights administration issues, purchases and sales of water rights, and the permitting and construction of water facilities.  He also represents clients in a diverse spectrum of land use and real property matters including:  real property conveyances, conservation easements, and the negotiation, drafting, and enforcement of agreements, regulations, and legislation.
Prior to practicing at Petros & White, David worked as an Assistant Attorney General in the Natural Resources Section of the Colorado Attorney General's Office, where he represented the State and Division Engineers, Colorado Groundwater Commission, Colorado Water Conservation Board, Division of Wildlife and other State agencies in water court cases and administrative matters.  He was recognized as the Colorado Division of Water Resources, Water Unit Attorney of the Year in 2000.
David obtained his J.D. in 1997 from the University of Denver College of Law, where he was a Staff Writer for the University of Denver Water Court Reporter.  In 1992, he received his Bachelor of Arts degree in Political Science from the University of Colorado, where he was a member of the University of Colorado Bicycle Racing Team.  David served on the Colorado Bar Association's Water Law Section Executive Council from 2009 to 2015.  He has spoken and presented papers in the areas of surface water and ground water law at numerous professional conferences.