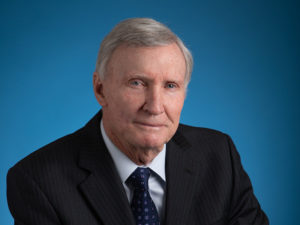 James J. Petrock
Of Counsel
James Petrock brings over five decades of legal experience, assisting governmental and private entities achieve their water-resource goals, to HPK. He also was the founder of Petrock & Fendel, PC back in 1981. Through his extensive knowledge and expertise accumulated over five decades, Jim has helped clients navigate the complex world of water law. When it comes to water and local government law, his continued reputation for successful outcomes is unprecedented.
Jim represents clients across a broad range of water law issues, from water rights protection and perfection to municipal finance matters, as well as regarding contracts, real estate, eminent domain, utility rate matters, personnel matters, mechanics liens, and defense of negligence claims. Today, he continues to serve as legal counsel for special districts such as North Table Mountain Water and Sanitation District and counties like Gilpin County. Previous to founding the firm, Jim served with the legal division of the Denver Water Board.
Ready to talk water law?
We want to hear from you.